source: financial website
tianyancha data showed that on April 2, Wahaha established a new cross-border e-commerce company, Hangzhou Wahaha Hongzhen cross border e-commerce Co., Ltd
Hangzhou Wahaha Hongzhen cross border e-commerce Co., Ltd. has a registered capital of 5 million yuan and its legal representative is Zong Qinghou, the founder of Wahaha. The business scope of the company includes Internet sales; Sales of daily necessities; Sales of communication equipment; Sales of electronic products; Cosmetics sales; Clothing retail; Sales of mother and baby products, etc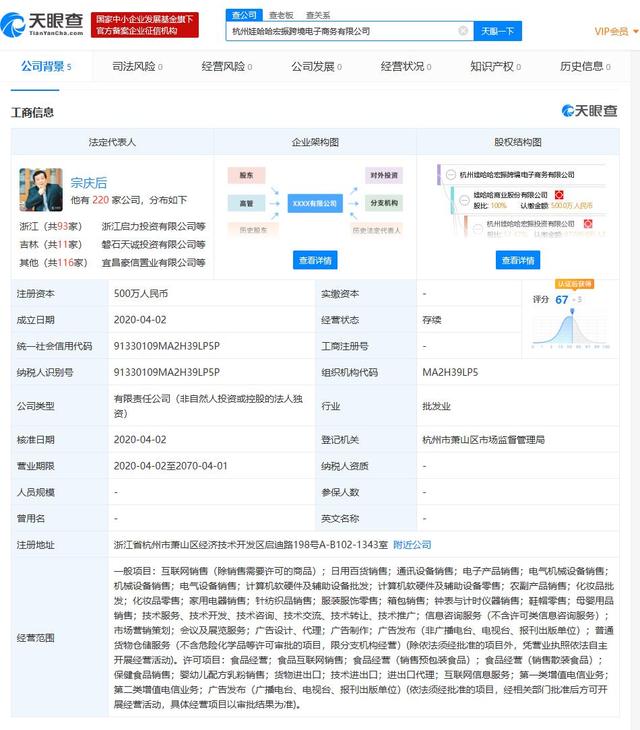 according to the shareholder information of tianyancha, the company is a wholly-owned subsidiary of Wahaha Commercial Co., Ltd. Zong Qinghou is the executive director and general manager of the company.
it is worth noting that Wahaha had previously invested 200 million yuan to establish an e-commerce company. According to tianyancha data, Hangzhou Wahaha e-commerce Co., Ltd. was established on March 24. Its legal representative is Zong Qinghou, with a registered capital of 200 million yuan. Its business scope includes food business; Video Internet sales; health food sales; infant formula milk powder sales; daily necessities sales; communication equipment sales; and electronic products sales Wahaha Commercial Co., Ltd. holds 100% of the shares
according to the global network, in 2014, Zong Qinghou analyzed the situation of e-commerce to the media and believed that e-commerce might return to physical form in the future. After all, low prices can't last long. Zong Qinghou said at that time:"as for Wahaha's involvement in e-commerce, it is still under consideration." However, in early 2018, Wahaha launched the online wechat mall. In May of the same year, Wahaha also launched new products with other companies and mainly relied on wechat sales channels, but the actual effect was not ideal. The reason was Zong Qinghou's "not optimistic" and "distrust" of e-commerce channels. In 2018, Zong Qinghou said publicly in an interview, "we do not boycott e-commerce or embrace e-commerce"
however, with the rapid development of e-commerce, the e-commerce channel that once played a role as a "supplement" for the development of traditional retail enterprises has undoubtedly become a new focus of the majority of enterprises. Especially during the epidemic period, more and more traditional retail enterprises are turning to online, laying channels and looking for new breakthroughs. Wahaha's layout of the e-commerce field at this time is also a move to adapt to changes and trends
public data show that from 2013 to 2016, Wahaha's operating revenue was 78.28 billion yuan, 72 billion yuan, 49.4 billion yuan and 52.9 billion yuan respectively. Until 2017, the business contraction was reduced to 45.6 billion yuan, and the five-year business contraction water exceeded 30 billion yuan