this article is transferred from [People's daily]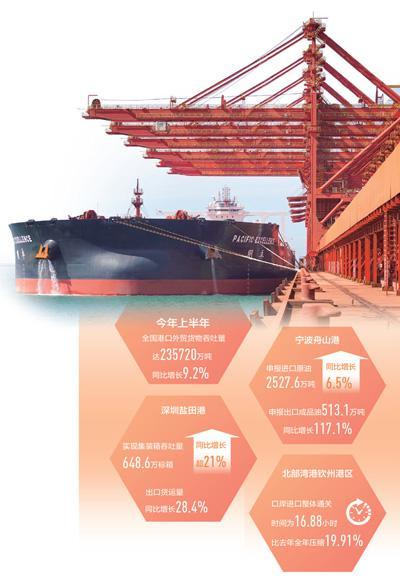 on May 17, the super large ore carrier docked at the 400000 ton wharf of Yantai port, Shandong port.
downke photography (people's vision)

June 17, busy Tianjin Port Wharf.
freight increased, routes widened and trade quality continued to improve... In the first half of this year, the cargo throughput of foreign trade in ports across the country increased by 9.2% year-on-year. Ports and customs in many places launched a series of cost reduction and efficiency enhancement measures, revitalized shipping resources, improved foreign trade efficiency and provided support for the sustained and stable growth of foreign trade.
ocean going ships come on the waves, containers row upon row, shore cranes rise and fall, loading and unloading are busy, and trailers shuttle back and forth between the yard and wharf... Foreign trade development, logistics first, as an important hub of water and land transportation and the distribution center of foreign trade goods import and export, port construction plays an important role.
in the first half of this year, the foreign trade cargo throughput of ports across the country reached 2357.2 million tons, a year-on-year increase of 9.2%, and the container throughput reached 138.18 million TEUs, a year-on-year increase of 15.0%.
freight increase route wide operation busy
on July 23, in zone 80 of phase III container terminal of Qianwan port area of Qingdao port, Shandong Port, the 300 meter long" magino"ship is loading and unloading in an orderly manner." since this year, the strong momentum of foreign trade export and strong overseas demand have brought strong support to the maritime market, and our freight forwarding volume has shown double-digit growth. " Manager Wang of Qingdao Jinhan shenghang International Logistics Co., Ltd., who is coordinating direct pick-up by vehicle and ship, said
not far away, Zhang Junzheng, deputy general manager of Qingdao port Qianwan container terminal company, and his colleagues studied how to further improve ship operation efficiency. "Today alone, our company has 21 container ships operating in the port." Zhang Jun told the reporter that in the first half of the year, Qianwan Container Terminal Co., Ltd. opened 15 new routes, including 10 routes connecting countries and regions along the regional comprehensive economic partnership agreement (RCEP) and the "the Belt and Road"
not only the freight volume increases, routes are widened, but also the trade quality is improved
on July 17, the fishing oil wharf outside Zhoushan port, Ningbo was busy. Panama's "Yuanming Lake" ship docked at the wharf and unloaded 272000 tons of crude oil. This batch of crude oil will be exported to Zhejiang Petrochemical Co., Ltd. as raw materials to refine refined oil and other chemicals. On July 21, the South Korean oil tanker "Asian steamer" loaded with 2000 tons of butadiene left the oil and liquid chemical wharf of Zhoushan Zhejiang Petrochemical. Meanwhile, the Liberian "sunrise" tanker is waiting to enter the port and plans to load 57000 tons of gasoline
customs statistics show that in the first half of this year, Ningbo Zhoushan port declared to import 25.276 million tons of crude oil, a year-on-year increase of 6.5%; The declared export of refined oil was 5.131 million tons, a year-on-year increase of 117.1%, and the import and export values reached a record high
in 2020, the State Council approved several measures on supporting the opening and development of the whole oil and gas industry chain in China (Zhejiang) pilot free trade zone. As an important support for building the whole oil industry chain in Zhoushan area of Zhejiang pilot Free Trade Zone, phase I of Zhejiang Petrochemical refining and chemical integration project was successfully put into operation at the end of 2019, with an annual production capacity of 40 million tons after completion. With the convenient transportation conditions of Ningbo Zhoushan port, Zhejiang Petrochemical is accelerating the expansion of the international market and promoting the export of refined oil
the global top 20 container port forecast report in 2021 recently released by the prediction science research center of the Chinese Academy of Sciences shows that in 2021, the growth rate of container throughput in Chinese ports has increased to a large extent, and the demand for container transportation services in most ports is increasing. According to the calculation results of the model, nine of the top 20 container ports in the world are from China, and the development of container transportation in China is still the focus and foundation of global stable development
process customs clearance reduction and fast service excellence